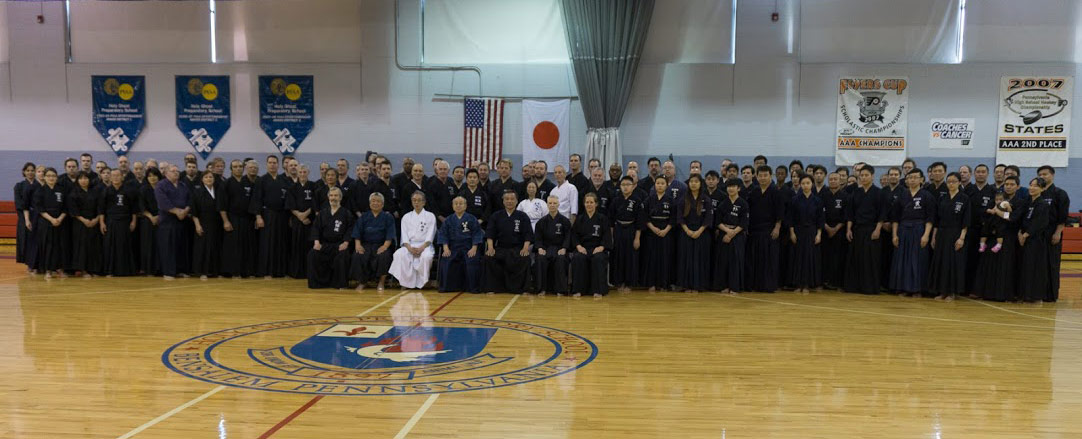 2018 East Coast Iaido Seminar
Date
Saturday, March 10
GUEST INSTRUCTOR
We are happy to have as our Guest Instructor from the All Japan Kendo Federation:
Hirofumi Yanagihara Sensei (Hanshi Iaido 8-dan)
SEMINAR LOCATION
CERC (Community Education and Recreation Center)
180 9th Street, Jersey City, NJ 07302 (Google map)
There is parking in front of the CERC.
To reach the CERC via public transportation, see directions at the bottom of this page.
SEMINAR SCHEDULE
Saturday, March 10: Seminar and Shinsa
9:00 am - 3:30 pm: Seminar
3:30 pm - 6:00 pm: Shinsa
Seminar fee: $60
Shinsa fee: $15
LUNCH
There will be a lunch break during the seminar.
You can bring your own lunch, or bring $10 cash and sign up on Saturday morning for a delivered lunch.
The lunch options will be limited to: General Tso's chicken, beef with broccoli, or steamed mixed vegetables, all served with fried rice.
ADVANCE EVENTS
Wednesday, March 7:
Yanagihara Sensei will come to Ken-Zen dojo at 6:00 pm. $20 at the door.
Thursday, March 8:
Yanagihara Sensei will come to Shidogakuin at 7:45 pm. $20 at the door.
Friday, March 9:
Yanagihara Sensei will be at Ken-Zen Institute from 9:00 am - 4:30 pm.
54 Thomas Street, New York NY.
This event is open to Kodansha only (4 dan and up).
Fee will be $50, including bento. Lunch break will be noon to 1:30pm.
Please use the check boxes below to let us know if you will be coming on Friday morning.
Send payment to Pam Parker and make checks out to Shidogakuin.
Friday night open gym, March 9:
The CERC gym (Google map) will be open from 7:30 pm - 10:00 pm for anyone who would like space to practice.
HOTELS
There are many hotels nearby. Please see this Hotels near CERC PDF for a partial list, and check hotel aggregation sites like hotels.com and bookings.com for current prices.
DEADLINE FOR REGISTRATION
Friday, March 2.
For questions about online registration, please contact info@shinken.cc.
PUBLIC TRANSIT DIRECTIONS TO CERC
Take the PATH train (or light rail) to the Newport stop. The PATH runs fewer lines on a reduced schedule on weekends, so allow at least 50-60 minutes to get from Manhattan to Newport on Saturday morning. Be sure to look at the weekend PATH map when planning your trip. The CERC is a 10-minute walk through the Newport Centre mall (see map below):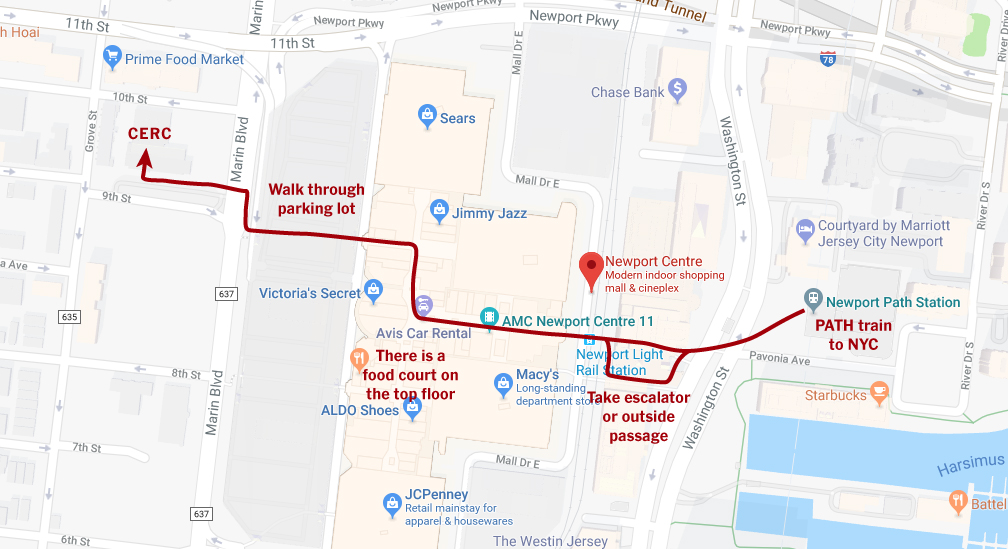 From the PATH train, cross the street and take the "525 Passage" inside, up the escalator and into the Newport Centre mall. Go down to ground level, following signs for Sears and then the West Parking Deck. Exit the mall and follow the blue walkway straight through the parking garage and up the stairs. The CERC will be across the street, on your right.
SHINSA APPLICATION
SEMINAR
An Iaido seminar will be held on Saturday, March 10, from 9 am - 3:30 pm.
Seminar fee: $60.00 (or $70 for non-AUSKF attendees)
There will be a lunch break. Please bring your own lunch.
IAIDO SHINSA
A promotion test will be held on the afternoon of Saturday, March 10, at CERC, after the seminar.
You must attend the seminar to take examination. No exceptions!
Examination up to 3 dan will be available to seminar participants.
Non-AUSKF members must be a member of a Kendo Federation recognized by the International Kendo Federation, and must have written permission from their country's Kendo Federation President.
If you are a member of GNEUSKF, AEUSKF or EUSKF you do not need to provide the signature or confirming email from your Federation president. Members of other Federations will need to provide a signature or email showing that your Federation president is aware of, and approves of, your testing at this event.
If you do not sit in seiza, and you have previously provided a doctor's note, it is not necessary to provide another. You do need to let us know if you cannot sit in seiza, so that we can provide standing-only kata for you.
Shinsa fee: $15.00
FRIDAY KODANSHA EVENT
There will be a preliminary Kodansha (4 dan and up) event on Friday, March 10, at Ken-Zen Dojo, from 9:00 am - 4:30 pm.
Cost: $50. Includes bento.
ONLINE REGISTRATION
Online registration is not currently available.
Please contact info@shinken.cc if you have questions about the registration process.