East Coast Iaido Seminar with Oshita Sensei
Date
Friday, Oct. 25 – Sunday, Oct. 27, 2019
GUEST INSTRUCTOR
East Coast Iaido is pleased to let you know that this coming Autumn, Oshita Masakazu Sensei (Kyoshi 8-dan, MJER) will be visiting New York City on Oct. 25-27.
Please attend the seminar for some excellent training, including shinpan training, from one of the AJKF Iaido Championships shinpan-shunin.
SEMINAR SCHEDULE
Friday, Oct. 25: Kodansha event
9am to 5pm at Ken-Zen Institute.
This event is open to Kodansha only (4 dan and up).
Saturday, Oct. 26: Seminar
9am to 5pm at CERC in Jersey City.
Sunday, Oct. 27: Shinpan Training and Goodwill Taikai
9am to 5pm at CERC in Jersey City.
SEMINAR LOCATION
CERC (Community Education and Recreation Center)
180 9th Street, Jersey City, NJ 07302 (Google map)
There is parking in front of the CERC.
To reach the CERC via public transportation, see directions at the bottom of this page.
LUNCH
There will be a lunch break during the seminar.
On Saturday and Sunday, you can bring your own lunch or register in advance for a delivered lunch of General Tso's chicken, beef with broccoli, or steamed mixed vegetables. The cost of lunch is $10 (in cash) each day.
GROUP DINNERS
We will be having group dinners on Friday and Saturday evening. Each person will pay for themselves at the restaurants, but we'd like to get a head count to make reservations.
Friday night at Girello (11 Varick St NYC, walking distance from Ken-Zen dojo)
Saturday night at New Thanh Hoai (234 10th St, Jersey City NJ, walking distance from CERC)
HOTELS
There are many hotels nearby. Please see this Hotels near CERC PDF for a partial list, and check hotel aggregation sites like hotels.com or booking.com for current prices.
DEADLINE FOR REGISTRATION
Sunday, Oct. 6.
For questions about online registration, please contact info@shinken.cc.
PAYMENT INFORMATION
Online payments can be made by Zelle to pam_a_parker@yahoo.com, but please include a memo that says the payment is for Shidogakuin Oct 2019 seminar.
Checks payable to Shidogakuin can be sent to Pam Parker at 24 Fifth Avenue, Apt 426, New York NY 10011.
Foreign visitors can pay in cash at the door.
PUBLIC TRANSIT DIRECTIONS TO CERC
Take the PATH train (or light rail) to the Newport stop. The PATH runs fewer lines on a reduced schedule on weekends, so allow at least 50-60 minutes to get from Manhattan to Newport on Saturday morning. Be sure to look at the weekend PATH map when planning your trip. The CERC is a 10-minute walk through the Newport Centre mall (see map below):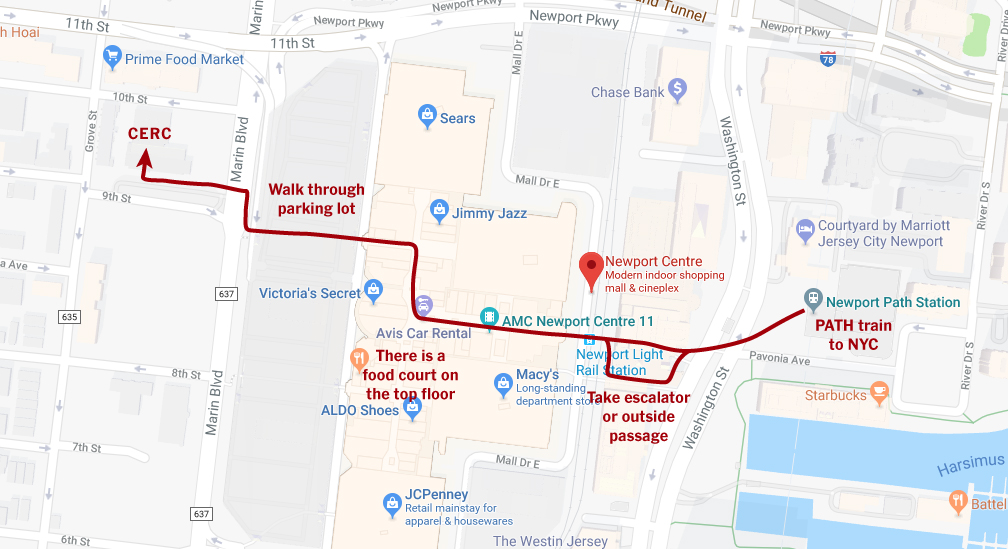 From the PATH train, cross the street and take the "525 Passage" inside, up the escalator and into the Newport Centre mall. Go down to ground level, following signs for Sears and then the West Parking Deck. Exit the mall and follow the blue walkway straight through the parking garage and up the stairs. The CERC will be across the street, on your right.
SEMINAR
The price for the Saturday and Sunday seminar is $100.
TAIKAI
The Goodwill Taikai is included in your seminar fee.
KODANSHA SEMINAR
The price for the Friday Kodansha seminar is $50 (including bento).
ONLINE REGISTRATION
Online registration is not currently available.
Please contact info@shinken.cc if you have questions about the registration process.