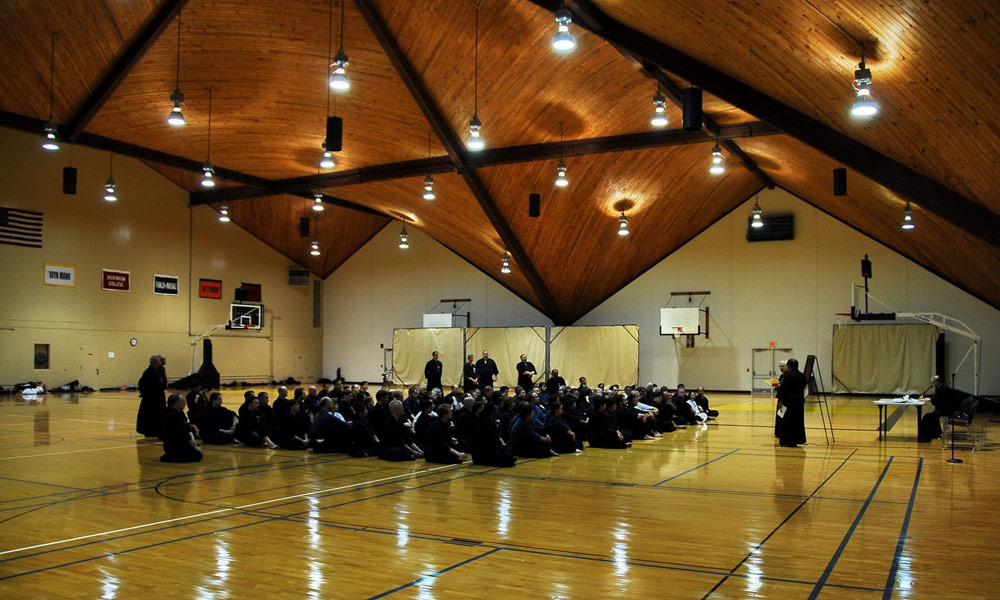 2020 AUSKF Iaido Summer Camp and Jodo Seminar
Date
Wednesday, June 17 – Monday, June 22, 2020
PRELIMINARY INFORMATION
Note: The information below is preliminary, and the details (including event times and prices) may change in the coming weeks.
GUEST INSTRUCTORS FROM ALL JAPAN KENDO FEDERATION

Junichi Kusama Sensei
草間純市先生
Iaido 8 Dan Hanshi

Kiyotaka Yokota Sensei
横田清隆先生
Iaido 8 Dan Hanshi
LOCATION
Bryn Mawr College, 101 North Merion Avenue, Bryn Mawr, PA
You do not need a car. Take the Paoli/Thorndale line SEPTA train from Philadelphia 30th St Station to the Bryn Mawr stop, which takes 20 minutes.
The seminar will be held in the Schwartz Gym, building #10 in this PDF map of campus.
SCHEDULE, CHECK-IN AND PARKING
You may check in starting at 1:00 pm on Wednesday.
Dining:
Erdman Dining Hall (map)
Breakfast is 7:30–9:00 am, Lunch is 11:30 am–1:30 pm, Dinner is 5:00–6:30 pm
Seminar:
The Iaido seminar will be Thursday and Friday from 9:00–11:45 am, then 1:00–4:45 pm.
The Jodo seminar will be Sunday from 1:00–4:00 pm and Monday from 9:00-11:30 am.
WELCOME PARTY
The Welcome party fee will be included in the general fees for anyone who checks in on Wednesday.
The time is likely 8:00–10:00 pm (not yet confirmed) at the Campus Center Main Lounge (816 New Gulph Road, Bryn Mawr PA).
FOOD AND LODGING
We will be staying in Rhoads Hall at Bryn Mawr.
Breakfast, lunch, dinner, dorm room and gym access are $80 a day (or less on the day you checkout).
A commuter option with lunch and gym access only is $20 a day. (If you plan to eat lunch elsewhere you must still pay for the commuter option to access the gym.)
Please go through the registration process to see the full list of prices and options.
Meal cards and rooms keys must be returned when you check out, or you will be charged a $50 fee.
SAYONARA PARTY
A Sayonara party will be held on Saturday night, on the second floor of Rhoads Hall. The time is likely 7:30–9:30 pm (not yet confirmed).
The cost is $55 per person, which includes beer or wine. (It is not a BYOB event.)
UPDATES
We will post updates here and on the East Coast Iaido Facebook page.
DEADLINE FOR REGISTRATION
The registration deadline is Friday, May 29.
You will need your AUSKF ID number to register. If you have registered with Shinken.us before and don't remember your AUSKF ID or your temporary ID, please email info@shinken.us.
PAYMENT
All payments except the menjo fee should be paid by check made out to All United States Kendo Federation.
The menjo fee should be paid by check made out to GNEUSKF. If you do not pass the shinsa your check will be destroyed.
Mail all checks to:

Shozo Kato Studio
50 Webster Ave #2A
New Rochelle NY 10801
SHINSA APPLICATION
SEMINAR
An Iaido seminar will be held on Thursday and Friday, June 18–19.
Seminar fee: $125
Non-AUSKF fee: $175
TAIKAI
A competition will be held on Saturday, June 20.
The Taikai is limited to AUSKF members, or non-AUSKF members who are US residents.
Taikai fee: $25
IAIDO SHINSA
An Iaido shinsa (test) will be held the morning of Sunday, June 21.
Shinsa fee: (depends on rank)
JODO SHINSA
A Jodo shinsa (test) will be held the afternoon of Sunday, June 21.
Shinsa fee: (depends on rank)
JODO SEMINAR
A Jodo seminar will be held on Sunday afternoon and Monday morning, June 21–22.
Jodo seminar fee: $40
ONLINE REGISTRATION
Online registration is not currently available.
Please contact info@shinken.cc if you have questions about the registration process.